Book of Ra
is a unique and exciting slotmachine with a unique bonus concept that is both fun and rewarding.
The Book of Ra slot has 9 paylines and wild bonus symbols that act as substitution symbols in addition to being the key to the unique free spin bonus.
With an exciting Ancient Egyptian theme from the time of the Pyramids and Tutankhamuntheme and great player rewards available, it is clear to see why this is taking the world of online casinos by storm
Book of Ra Bonus Feature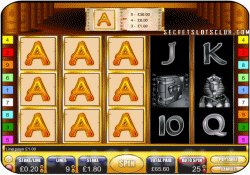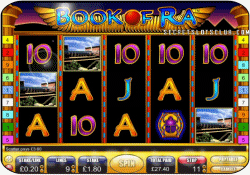 The feature is awarded each time three wild symbols appear anywhere on the slotmachine reels, this goes for normal spins and during the free spin feature.
During the base-game the wild Book of Ra symbols appear much less than during the bonus feature.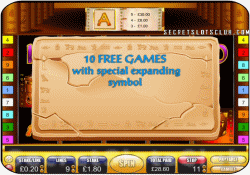 The first thing players will see when the free spin feature is awarded as a small passive feature where a random slotmachine symbol is selected for the special Book of Ra feature.
The feature awarded for the screenshot had the A symbol as the free spin special symbol.
The special symbol is shown above the reels with a unique paytable that is used after normal payline wins based on ALL special symbols anywhere on the game paylines.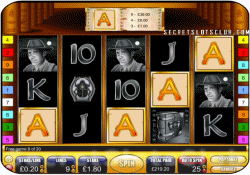 During the free spin feature, the special symbol appear with a solid background and a thick border that make them stand out from the rest.


The unique symbols can appear on each of the five reels and can be used for normal payouts in addition to the special feature payouts that are won after normal calculations.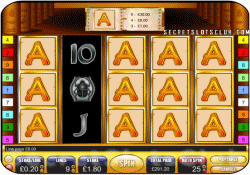 When the normal slotmachine payouts are calculated, the unique Book of Ra bonus symbols expand to cover the entire reel they appear on.

The two screenshots here show the same spin on the slotmachine, before and after the bonus symbols expand.

When the bonus symbols have expanded, the unique paytable is used to determine the extra spin payouts based on all special symbols on each payline.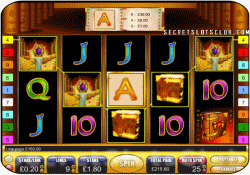 As i wrote before, the Book of Ra free spin feature also offer normal payline prizes.

The payouts and symbols that players can enjoy during normal spins are still in effect, but the wild symbol seam to appear more often.

This free spin screenshot show a perfect payline combination with a re-trigger and a single special symbol.

This means that i won 10 additional free spins in addition to one of the top slotmachine prizes!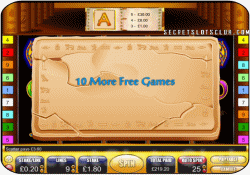 The free spin feature can also be re-triggered with spins that dont include a special symbol or high payouts.
The feature re-trigger each time three or more scattered wild Book of Ra symbols appear on the slotmachine reels.
Each time the feature is re-triggered 10 additional free spins are added to the bonus feature counter that show the amount of free spins left during the feature.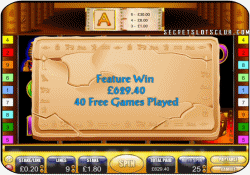 The Book of Ra feature ends when the free spin counter reaches the amount of free spins won by players.

The counter starts at 10 (with 10 free spins won) and increase by 10 each time players re-trigger the feature.

When the feature ends, a summary screen is show with the players total win amount (for all prize types during the feature) and the total amount of free games the feature had.

Book of Ra is one of the exclusive slot games at Sky Vegas, so you wont be able to play it at any other online casino.


» View the complete Book of Ra review
» Create a free Sky Vegas account
» Find more slotmachine resources