From 1 to 243 ways to win
During my time as an online casino player, i have come to prefer the advanced slot machine games with exciting bonus features and chances of braeking some really insane prizes for just a few bucks per spin.
While i was going thru my personal archive of slot machine screenshots (some of these are available at the Screenshots sections of the
Secret Casino Club
and
Secret Slots Club
websites), i noticed how many of my most played games seam to have an increase in paylines - and chances to win per spin.
Related links:
Secret Casino Club Screenshots
Secret Slots Club Screenshots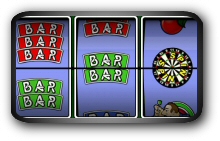 When i started playing at online casinos more than 4 years ago, I mostly spun single line slot machine games like
Bulls Eye
and slowly moved on to three and then 5 payline slots games based on the classic
One Arm Bandit
design.
After having familiarized myself a little more with the online casino programs, i decided to fool a little around with some of the many games in the casino lobbies that i honestly thought were confusing and hard to play.
The first video slot machine games i played were games such as
Achilles
and
Aztecs Treasure
that are available at popular Real Time Gaming casinos such as
WinPalace
and
Pure Vegas
. The games all offered 20 paylines to bet on, much more than i was used to with the one arm bandit slot macihnes.
During the first several months, i played these Video Slot Machine games with few paylines enabled, and enjoyed the more advanced slot machine features with 5-10 paylines enabled only.
My gaming budget was tight, and i often played with just a few cents per payline. My base thought was, that if i enabled more paylines, i would have a greater chance of winning, but i would win much lower prizes, - and have less chance of winning something interesting.
This strategy worked extremely well for me, and i slowly began to increase the amount of paylines i wagered on from month to month.
After about a year, i had moved away from staking a few cents on up to 10 paylines to always playing with 20 (max bet) paylines enabled.
I came to understand that allthough i had fewer but higher prizes with my original strategy, i actually won more in the long run with the extra paylines enabled.
I played the popular
Real Series Video slot machine games at the Real Time Gaming online casinos
for several months, and slowly but surely increased my bets and withdrawals. After a few months, i started playing at even more casinos, casinos such as
River Belle
and
SuperSlots
that offered a whole new range of slot machine games with new features and payout options.
The casino software that have impressed me the most in general is clearly the Microgaming software that simply offer the largest amount of unique casino games. The
Microgaming software
is also the one used for the numerous
Free Play casino
promotions that I have enjoyed a huge amount of myself.
While the Real Time Gaming casinos too me from a single payline to 20, the Microgaming casinos quickly took me from 20 to 25, and later from 25 to 30.

I enjoyed these 20-30 payline slot machine games for more than a year before i dared to play the first
40 payline slot machine
game i had seen -
Dolphin Tale
.
I had a blast playing the Dolphin Tale slots game, the free games feature in particular landed some insane prizes, and it didnt take long before i just had to check out the other slot machine giant -
Prime Property
.

After having reached and mastered the massive 40 payline giants in the slot machine category of the online casino lobbies, it took more than just a while before something new and truly interesting came along.
Games such as Catapillar and Gladiator were all released after more than a year, and shortly after their release, the online casino slot machine genre took a turn with the release of Slot Machines Without Paylines.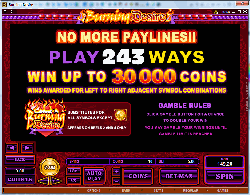 The casual slot machine games go under many names, the most popular i believe is just "243 ways to win" or "ways win" slot machines.
The first of these new slot machines was
Burning Desire
, in all honestly the slot machine didnt have much else to offer than the new concept, - but this was definately more than enough!
It didnt take long for several of the other casino types to develop games of their own without payliens, and ever since, the amount of slot machines with either no paylines or huge amounts of paylines have been increasing dramatically.
Many new slot machine games such as the
Summer Holiday
slot and the newly released (today)
Lions Pride
offer players 100 paylines to bet on.
Related Links:
Summer Holiday prerelease post
Lions Pride prerelease post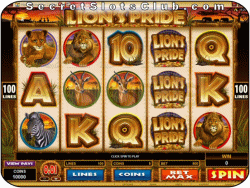 The list of ways pays slots games is growing much faster though, with games such as the amazing
Thunderstruck 2
, one of my personaly favorites
Grail Maiden
(that is available to players from USA),
Alaskan Fighing
and the
Savannah Sunrise
slot.
With slot machine games now offering players close to 250 ways to win, i can't but wonder what the next thing will be. One thing is for sure, as long as my withdrawals keep increasing with the amount of paylines - they can grow from here to heaven!